Iron-On Vinyl T-Shirt with FREE SVG Cut File!
Hey crafty people!
I'm thrilled to be on the Brutus Monroe blog today to share a project that is a little out of the ordinary for me. I usually share cards, but today I wanted to show you that there's so much more you can do with Brutus Monroe products!
For today's project, I have created a super cute t-shirt using a free (yes, I said FREE!) digital cut file Christopher created. You can find that file in the shop HERE.
I downloaded the SVG file from the website and then uploaded it into Cricut Design Space. I un-grouped all of the layers and then sliced each letter from the shadow layer one by one. I deleted all of the extra pieces from my slice results and that left me with an outline of the word 'create' where the inside areas of the letter were cut out. Super cool!
Next, I added my own text and images to spruce up the design. I added cursive lettering to include the 'your own ending' portion of the quote we all know and love. I added some Cricut images as well, including a paint palette and a couple of paintbrushes. I welded all of my design elements together and proceeded to make my design.
I chose a white Iron-On Vinyl for the project because I knew I'd be using a black shirt. I made sure to mirror my design and then used the Cricut to cut everything out. I used my weeding tool to remove all of the negative space so I'd be left with just my design. Then, I used the Cricut Easy Press 2 to iron on my design.
I absolutely love the way this turned out and I know my little guy will be getting so many compliments on this adorable t-shirt. What do you think? Will you give this a try on your next project?
Hugs and love,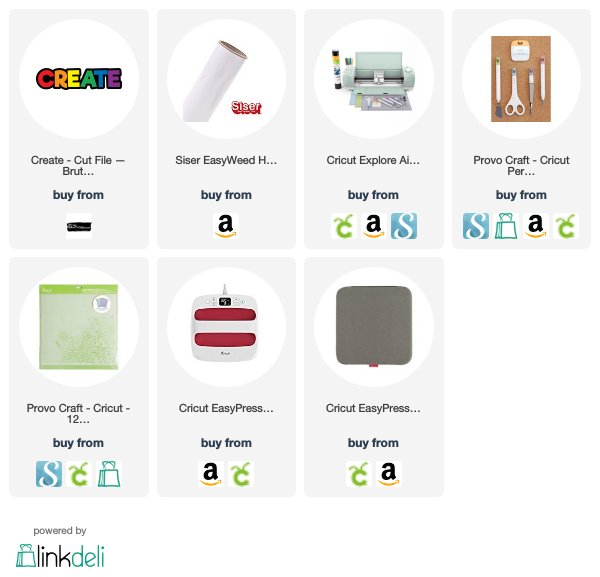 https://linkdeli.com/widget.js?1552642647875